2022 Outlook: Solid Growth, More Awards Innovation, Focus on ROI
Assuming the Covid-19 pandemic shifts into an endemic stage, 2022 promises to be a banner year for the rewards and recognition field with plenty of innovation, change, and new players.
Here's a rundown of the top trends to anticipate for 2022 in the field of Total Rewards.

Overall growth driven by the Great Resignation and market share battles. Whatever strategies or tactics organizations choose to engage employees, many will face the impact of unparalleled levels of resignations and greater difficulty finding employees. On the sales and marketing side, many companies will battle for market share in reshuffled playing fields. This will lead to continued expenditures in incentives, recognition, and promotions, etc.
The continued explosion in new reward and gifting solutions. Given the tendency for businesses to look for quick fixes and bright shiny objects, the proliferation in award options, employee experiences, e-gifting, etc. will continue, following the pattern of the dot-com phenomenon in the 1990s, when billions flowed into award companies that no longer exist.
More venture capital and private equity involvement.
It appears the above factors have begun to attract the attention of venture capital and private equity investors, who have already pushed up valuations for companies like
Awardco
and
Reward Gateway
. There's every reason to believe such activity will continue.
More interest in data and program design. Given that until recently only a small percentage of organizations seriously analyzed return-on-investment, the shift to a more serious focus on program design and measurement will gradually increase as more organizations take human capital management, analytics, and reporting seriously. The first signs: many more companies are asking for data on the incentive and recognition programs: the next step is to apply serious program design principles to their programs.
Enormous growth in travel. While the merchandise and gift card suppliers saw increased business because of the pandemic and shifts due to cancelled travels, the opposite could begin to occur later in 2022, assuming that the pandemic recedes, and the travel situation normalizes. There appears to be enormous pent-up demand for travel, as employees who are happy to work from home have an even greater desire to travel and get to know their colleagues.
Continued changes in travel program design. After almost two years without extensive travel and trade shows, many businesses have determined that they can easily conduct business and routine meetings and training effectively online. Organizations that have proceeded with face-to-face events have discovered that strategic use of video can extend the reach of their events, rather than conflict with them, as was often the assumption in the past. Expect clients to demand more emphasis on immersive experiences that build relationships rather than the traditional stage-based keynotes and panel discussions, as people no longer need to travel to hear a great presentation or discussion.
Gifting technology. The enormous growth of gifting due to the pandemic has encouraged the development of technologies that make it easy for organizations to effectively manage business gifting on a single platform. These technologies provide a range of reward options based on the company's gifting strategy and a standardized experience for all participating employees, along with consolidated accounting and reporting.
Digital innovation. The concept of the Metaverse, using Virtual Reality to simulate one's participation at events or other experiences, may become an important part of business meetings in the future, but it likely will take a many more years for this to shake out based on what has happened with crypto currency. Despite a lot of talk and applications for the blockchain in the incentive and loyalty business, there does not appear to be much mainstream application yet.
That said, one can easily imagine a future in which people attend 3D events through highly realistic avatars and a completely realistic setting that could be anything from a ballroom to a jungle.
---
Education, Certifications, and Information to Activate
Brand Media and Enterprise Engagement

A complete learning, certification, and information program and a course syllabus for educators.
Resources:
The
Brand Media Coalition
, the only guide to the story-telling power of brands and where to source them for business, event, promotional gifting, and rewards and recognition.
Enterprise Engagement Solution Provider Directory
. The only directory of engagement solution providers covering all types of agencies and tactics as well as insights on how to select them.
Communities:
The
Enterprise Engagement Alliance and Advocate
and the
Brand Media Coalition
free resource centers offering access to the latest research, news, and case studies; discounts, promotions, referrals, and commissions, when appropriate to third-party solution providers from participating coalition solution provider members.
Training and Certification
Enterprise Engagement Alliance Education:
Certified Engagement Practitioner; Advanced Engaged Practitioner, and Certified Engagement Solution Provider learning and certification programs on how to implement Stakeholder Capitalism principles at the tactical level.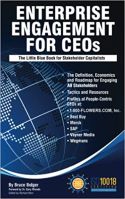 In Print:
This is the definitive implementation guide to Stakeholder Capitalism, written specifically to provide CEOs and their leadership teams a concise overview of the framework, economics, and implementation process of a CEO-led strategic and systematic approach to achieving success through people. (123 pages, $15.99)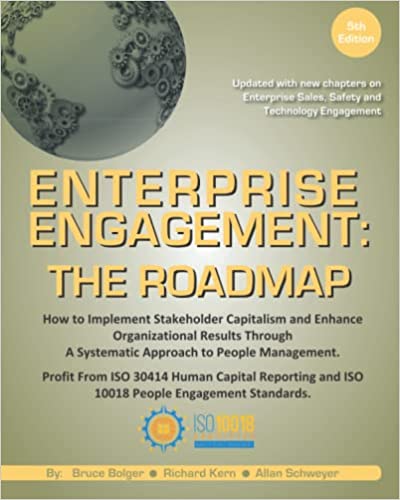 The first and most comprehensive book on Enterprise Engagement and the new ISO 9001 and ISO 10018 quality people management standards. Includes 36 chapters detailing how to better integrate and align engagement efforts across the enterprise. (312 pages, $36.)
Online:
10-minute short course: click here
for a 10-minute introduction to Enterprise Engagement and ISO standards from the Coggno.com learning platform.
Services:
• The Engagement Agency at EngagementAgency.net,
offering: complete support services for employers, solution providers, and technology firms seeking to profit from formal engagement practices for themselves or their clients, including Brand and Capability audits for solution providers to make sure their products and services are up to date.
• C-Suite Advisory Service
—Education of boards, investors, and C-suite executives on the economics, framework, and implementation processes of Enterprise Engagement.
• Speakers Bureau
—Select the right speaker on any aspect of engagement for your next event.
• Mergers and Acquisitions. The Engagement Agency's Mergers and Acquisition group is aware of multiple companies seeking to purchase firms in the engagement field. Contact Michael Mazer in confidence if your company is potentially for sale at 303-320-3777.
Enterprise Engagement Benchmark Tools:
The Enterprise Engagement Alliance offers three tools to help organizations profit from Engagement.
Click here
to access the tools.
• ROI of Engagement Calculator. Use this tool to determine the potential return-on-investment of an engagement strategy.
• EE Benchmark Indicator. Confidentially benchmark your organization's Enterprise Engagement practices against organizations and best practices.
• Compare Your Company's Level of Engagement. Quickly compare your organization's level of engagement to those of others based on the same criteria as the EEA's Engaged Company Stock Index.
• Gauge Your Personal Level of Engagement. This survey, donated by Horsepower, enables individuals to gauge their own personal levels of engagement.
For more information, contact Bruce Bolger at Bolger@TheEEA.org, 914-591-7600, ext. 230.