2022 HR Predications: More Focus on the "Employee Value Proposition", Accountability, DEI
Reports from Gartner and HRExchangeNetwork.com strike similar themes for the challenges facing human resources in 2022: The need to rethink the value proposition for employees, skills development, DEI (diversity, equity, and inclusion), and the changing role of human resources.
As hopes increase that the pandemic will finally give way to an endemic so that we can get on with our lives and business, it has also become clear that the US faces a protracted labor and skills shortage and a new generation of people seeking work-life balance. Here are some predictions from
Gartner
, the technology and research group, and
HRExchangeNetwork.com
, a global HR community, in an article by
Francesca Di Meglio
.
Neither report makes any mention of the need or opportunity for human resources to play a role in human capital management, metrics, reporting, or internal branding.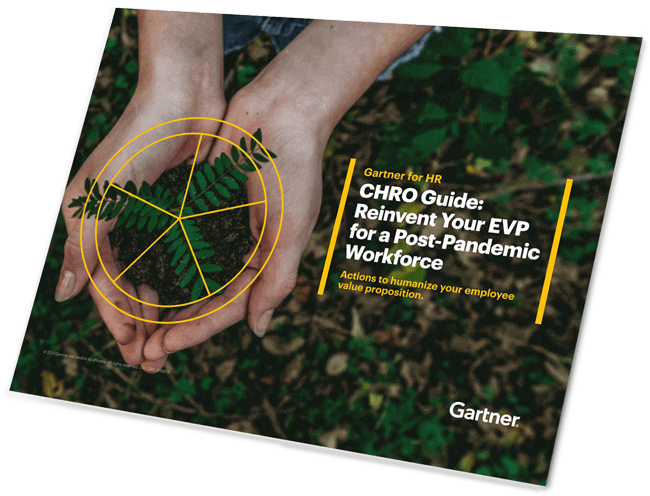 The recently published
Gartner report
highlighting top priorities for human resource leaders says that HR executives have to "evolve the way they identify, attract and retain critical skills and redesign work to
enhance the employee value proposition (EVP)
and drive business performance. This moment presents a unique opportunity for HR leaders to shape the future of work in ways not previously considered which is a possible win-win for both employees and employers."
The report identifies the following key trends:
No. 1: Hybrid work is driving business transformation.
"This shift to
hybrid work
will be a massive driver of transformation and one HR leaders must be prepared to support."
No. 2: More and new skills are needed by employees. The report estimates that 29% of skills needed in the average job posting in 2018 will be obsolete by 2022.
No. 3: Workforce health is being eroded.
"Employee performance stayed high during the pandemic, but disruptions have already made long-term and hard-to-reverse impacts on
workforce health
— that is, the health of employees, the state of trust between individuals, teams and leadership, and the work environment (e.g., feelings of inclusion)."
No. 4: Employees want to feel understood and valued. "HR leaders need to build a more human employer-employee relationship and employment deal to meet employees' demands to be heard and valued."
No. 5: Mounting pressure for diversity, equity, and inclusion. "Along with expectations of greater empathy and a more human work environment, there is increasing pressure to improve equity and inclusion with all stakeholders.
Based on these trends, the report says, HR management must:
•
Take on greater accountability for innovation and business transformation in a hybrid work model.
•
Use human-centric design to offer "flexible experiences, enable intentional collaboration, and drive empathy-based management."
•
Apply a more dynamic approach to addressing changing skills requirements.
•
Reassess workforce support offerings to drive workforce health, not just performance.
•
Establish real accountability for DEI in organizational leaders.
No. 1. Transformation of Human Resources. In 2022, HR will be determining the best ways to recruit and retain top talent. It will be a case of "out with the old and in with the new."
No. 2. Four-Day Workweek. Employees have the leverage now, she believes, and are asking for more flexibility. Some companies may move to a four-day work week to attract and retain employees.
No. 3. Mental Health and Wellness. Businesses are recognizing the importance of employee well-being and are offering employees "with tools for relieving stress, addressing mental illnesses, and preventing burnout," including yoga classes or meditation time, or mental health days as part of paid time off (PTO).
No. 4. Diversity, Equity, and Inclusion. The Black Lives Matter protests highlighted injustices that exposed the lack of representation of minorities in leadership and management and even at junior levels. Expect DEI to remain at the forefront of recruiting and retention strategies.
No. 5. The Possibility of More Variants. "The reality is that most companies will have to keep some level of remote work as an option because of the various COVID variants that might surface. Until the pandemic turns into an endemic, some companies will be remote only. Others will remain hybrid workplaces. Coming up with sufficient strategies on how to collaborate, forge bonds, conduct performance measures, and attain desired results is a must." Companies will have to continue to deal with touchy vaccine and mask requirements.
No. 6. Generational Differences. For the first time, four generations (Boomers, Generation X, Millennials, and Gen Z) work together. The differences pop up on a daily basis, Di Meglio writes. Millennials and Gen Z hold most of the power, because Boomers are retiring and Gen Xers represent a small part of the workforce. "These generational gaps will continue into 2022," and "HR leaders are going to be working hard to unite all these groups. After all, DEI efforts should include age variations, too.
---
Education, Certifications, and Information to Activate
Brand Media and Enterprise Engagement

A complete learning, certification, and information program and a course syllabus for educators.
Resources:
The
Brand Media Coalition
, the only guide to the story-telling power of brands and where to source them for business, event, promotional gifting, and rewards and recognition.
Enterprise Engagement Solution Provider Directory
. The only directory of engagement solution providers covering all types of agencies and tactics as well as insights on how to select them.
Communities:
The
Enterprise Engagement Alliance and Advocate
and the
Brand Media Coalition
free resource centers offering access to the latest research, news, and case studies; discounts, promotions, referrals, and commissions, when appropriate to third-party solution providers from participating coalition solution provider members.
Training and Certification
Enterprise Engagement Alliance Education:
Certified Engagement Practitioner; Advanced Engaged Practitioner, and Certified Engagement Solution Provider learning and certification programs on how to implement Stakeholder Capitalism principles at the tactical level.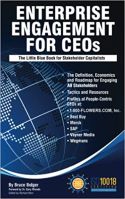 In Print:
This is the definitive implementation guide to Stakeholder Capitalism, written specifically to provide CEOs and their leadership teams a concise overview of the framework, economics, and implementation process of a CEO-led strategic and systematic approach to achieving success through people. (123 pages, $15.99)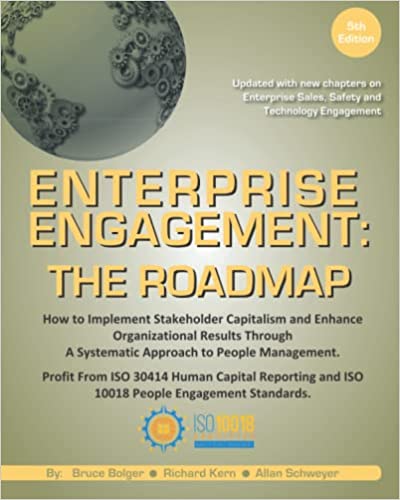 The first and most comprehensive book on Enterprise Engagement and the new ISO 9001 and ISO 10018 quality people management standards. Includes 36 chapters detailing how to better integrate and align engagement efforts across the enterprise. (312 pages, $36.)
Online:
10-minute short course: click here
for a 10-minute introduction to Enterprise Engagement and ISO standards from the Coggno.com learning platform.
Services:
• The Engagement Agency at EngagementAgency.net,
offering: complete support services for employers, solution providers, and technology firms seeking to profit from formal engagement practices for themselves or their clients, including Brand and Capability audits for solution providers to make sure their products and services are up to date.
• C-Suite Advisory Service
—Education of boards, investors, and C-suite executives on the economics, framework, and implementation processes of Enterprise Engagement.
• Speakers Bureau
—Select the right speaker on any aspect of engagement for your next event.
• Mergers and Acquisitions. The Engagement Agency's Mergers and Acquisition group is aware of multiple companies seeking to purchase firms in the engagement field. Contact Michael Mazer in confidence if your company is potentially for sale at 303-320-3777.
Enterprise Engagement Benchmark Tools:
The Enterprise Engagement Alliance offers three tools to help organizations profit from Engagement.
Click here
to access the tools.
• ROI of Engagement Calculator. Use this tool to determine the potential return-on-investment of an engagement strategy.
• EE Benchmark Indicator. Confidentially benchmark your organization's Enterprise Engagement practices against organizations and best practices.
• Compare Your Company's Level of Engagement. Quickly compare your organization's level of engagement to those of others based on the same criteria as the EEA's Engaged Company Stock Index.
• Gauge Your Personal Level of Engagement. This survey, donated by Horsepower, enables individuals to gauge their own personal levels of engagement.
For more information, contact Bruce Bolger at Bolger@TheEEA.org, 914-591-7600, ext. 230.