SAAGNY Webinar: Supply Chain Challenges, Changes in Business Create More Reasons for Distributors to Expand
This SAAGNY webinar entitled "Thrive: Your Guide to Prosperity in the 2020s" is for promotional professionals who wish to expand their businesses beyond selling promotional products to include other engagement solutions, including: brand gifting, gift cards, surprise and delight technologies, and incentive, recognition, event, and other engagement services that can help clients achieve their business goals.
Paul Kiewiet is unique in the promotional products industry because he came to the field as a founder of an overall promotional agency, which handled other promotional needs besides products, including incentive programs and other services. Kiewiet's recent book,
"Summit: Reaching the Peak of Your Potential"
, is available on
Amazon.com
and
Barnesandnoble.com
. The book is "geared for those who wish to turn their job in the promotional products industry into a profession that allows them to reach their full potential and become their best selves."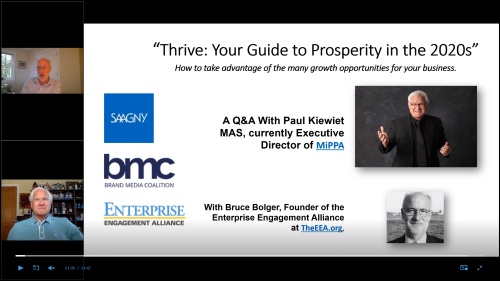 To access the SAAGNY program, click here
. This Brand Media Specialist outreach program is sponsored by Pulse Experiential, Bulova and Citizen Watch, Links Unlimited, Callaway, Oakley, Ray-Ban, Performance for Industry, Luxury Brands, and Ugg.
Here are some of the highlights from the program.
Today's supply challenges are unprecedented and could continue for a year or more. It's a perfect storm of shipping backlogs, higher costs, labor shortages, Covid-related manufacturing shutdowns, and trucking challenges, and it won't get much better for as much as a year or more. It's a time for understanding of what customers and suppliers are going through.
Buy local. While US manufacturers are also suffering supply chain and shipping problems, they often are in a better position to be more responsive and provide better customer service than large manufacturers that depend upon China or other imports.
Be inventive with business gifts. For companies looking for business gifts, consider gift cards or surprise and delight gifting, for which there are fewer supply chain issues. You can improve your margins by recommending unique packaging or other ways to enhance the gift experience.
Promotional distributors have an opportunity to become true professionals. Expanding into brands, gift cards, and technology, and other services is an obvious next step for many distributors. Don't be afraid to charge for your time assisting with managed outsourcing but make sure you are transparent about the value you are offering.
Educate your customers and prospects on delivery and pricing challenges. Make sure that all your customers know that they must order now for Valentine's Day, let alone the holiday season.
It's time to stop selling and start listening. The days of asking how many, when, and for how much are long over. Success goes to those who have the confidence to ask sincere questions about the prospect's goals, areas of pain, and other needs, and to know where to search for solutions even if unable to provide one on the spot.
The pandemic has created an opportunity to expand the $40 billion market for incentives and gifting moving through retail. Many distributors are already selling brands, gift cards, gifting, and engagement technology, and many are also qualified to represent select regional incentive or recognition companies, etc. to expand.
What is required of distributors wishing to become promotional professionals? The time necessary to get to know the different types of services in brands, gift cards, technologies, meetings, and events, as well as select trusted vendors. The opportunity might also warrant an update to your company's web site or Linked in page.

Trade show and conference attendance could be significantly down for a year or more. The 60% of those who are concerned about Covid-19 don't wish to be in enclosed places with lots of people for too long, while many of the 40% or so who are not concerned will not attend events with mask requirements or will not comply. Many people are becoming accustomed to doing without all of the travel, and the work-at-home experience makes at least some people more selective about the events they wish to attend, Covid or not. The longer the pandemic, the more habits will become permanently changed.
Lessons from the pandemic and any life adversity. Kiewiet spells out his own life lessons and their application to business with the acronym PAIN RELIEF.
P stands for positivity, maintaining optimism even during the most challenging of times.
A is for asking the right questions, always trying to find out what a client needs or their areas of pain.
I is for inspiration, continually searching the source for new ideas. This is particularly important now.
N is for negotiating, always looking for win-wins. Don't always accept the first offer.

R is for reinvention, having a stable base from which to pivot.
E is for evaluation, taking the time, whenever possible, to examine the details and risk of each decision.
L is for life, living in the present, valuing the simple things.
I is for innovation, always looking for new ways to relieve pain or solve a problem.
E is for endurance. Persevere. Don't give up. "This too shall past."
F for the future, always look forward and plan to the extent possible.
FOR MORE INFORMATION
MPPA Executive Director
Brand Media Coalition
---
Education, Certifications, and Information to Activate
Brand Media and Enterprise Engagement

A complete learning, certification, and information program and a course syllabus for educators.
Resources:
The
Brand Media Coalition
, the only guide to the story-telling power of brands and where to source them for business, event, promotional gifting, and rewards and recognition.
Enterprise Engagement Solution Provider Directory
. The only directory of engagement solution providers covering all types of agencies and tactics as well as insights on how to select them.
Communities:
The
Enterprise Engagement Alliance and Advocate
and the
Brand Media Coalition
free resource centers offering access to the latest research, news, and case studies; discounts, promotions, referrals, and commissions, when appropriate to third-party solution providers from participating coalition solution provider members.
Training and Certification
Enterprise Engagement Alliance Education:
Certified Engagement Practitioner; Advanced Engaged Practitioner, and Certified Engagement Solution Provider learning and certification programs on how to implement Stakeholder Capitalism principles at the tactical level.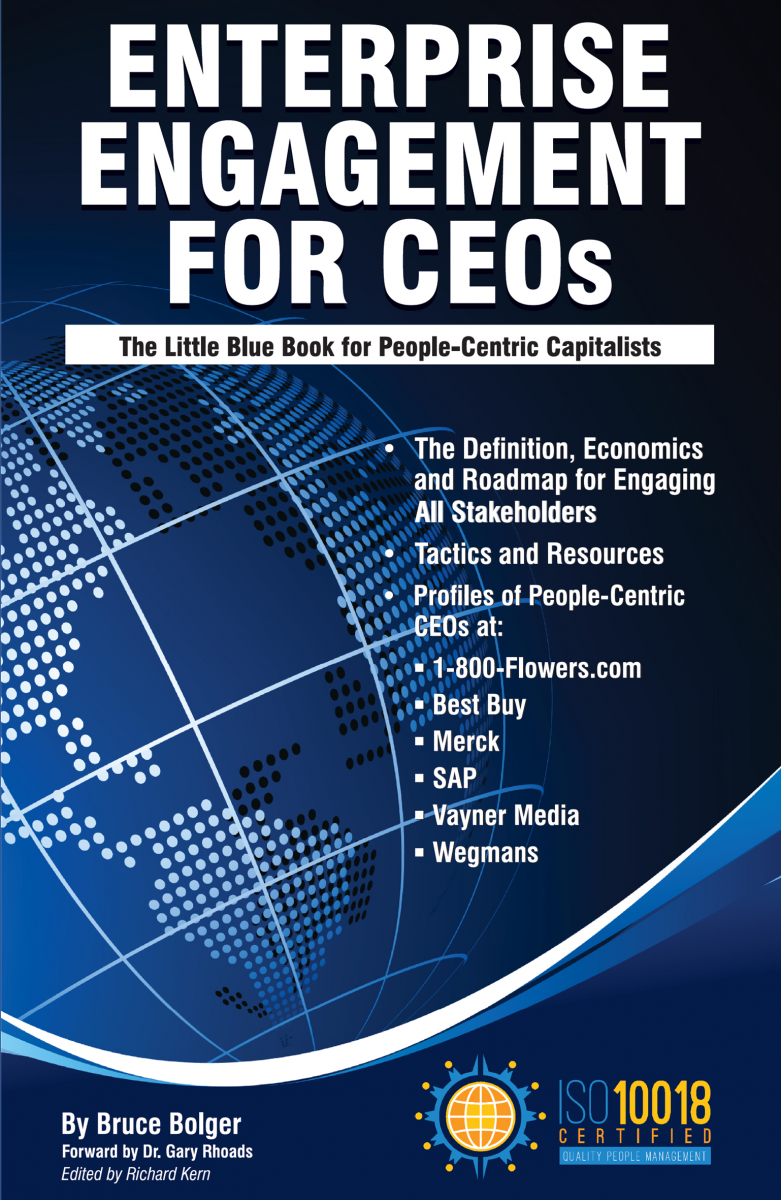 In Print:
This is the definitive implementation guide to Stakeholder Capitalism, written specifically to provide CEOs and their leadership teams a concise overview of the framework, economics, and implementation process of a CEO-led strategic and systematic approach to achieving success through people. (123 pages, $15.99)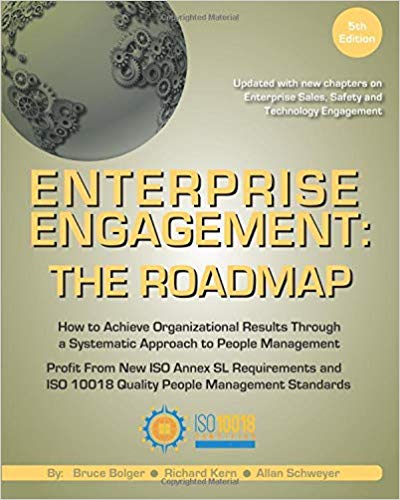 The first and most comprehensive book on Enterprise Engagement and the new ISO 9001 and ISO 10018 quality people management standards. Includes 36 chapters detailing how to better integrate and align engagement efforts across the enterprise. (312 pages, $36.)
Online:
10-minute short course: click here
for a 10-minute introduction to Enterprise Engagement and ISO standards from the Coggno.com learning platform.
Services:
• The Engagement Agency at EngagementAgency.net,
offering: complete support services for employers, solution providers, and technology firms seeking to profit from formal engagement practices for themselves or their clients, including Brand and Capability audits for solution providers to make sure their products and services are up to date.
• C-Suite Advisory Service
—Education of boards, investors, and C-suite executives on the economics, framework, and implementation processes of Enterprise Engagement.
• Speakers Bureau
—Select the right speaker on any aspect of engagement for your next event.
• Mergers and Acquisitions. The Engagement Agency's Mergers and Acquisition group is aware of multiple companies seeking to purchase firms in the engagement field. Contact Michael Mazer in confidence if your company is potentially for sale at 303-320-3777.
Enterprise Engagement Benchmark Tools:
The Enterprise Engagement Alliance offers three tools to help organizations profit from Engagement.
Click here
to access the tools.
• ROI of Engagement Calculator. Use this tool to determine the potential return-on-investment of an engagement strategy.
• EE Benchmark Indicator. Confidentially benchmark your organization's Enterprise Engagement practices against organizations and best practices.
• Compare Your Company's Level of Engagement. Quickly compare your organization's level of engagement to those of others based on the same criteria as the EEA's Engaged Company Stock Index.
• Gauge Your Personal Level of Engagement. This survey, donated by Horsepower, enables individuals to gauge their own personal levels of engagement.
For more information, contact Bruce Bolger at Bolger@TheEEA.org, 914-591-7600, ext. 230.