More Signs That Merchandise and Gift Cards Gain at the Expense of Travel
Here's an update on the impact of the pandemic on the incentive, recognition, and rewards business based on interviews with incentive company CEOs and different types of reward suppliers.
Interviews with CEOs of leading full-service incentive companies, who preferred to remain unnamed in order to provide more candid information, and management at Crutchfield Business, Tourneau Corporate Sales, and Pulse Experiential Travel, are consistent with reports that the merchandise, individual travel, and gift card suppliers have seen increased sales due to the dramatic reduction of group incentive travel and will probably do so for the foreseeable future.
Speaking anonymously, leading full-service incentive company CEOs say that the impact of the pandemic on the travel side of the business was simply unheard of and forced all of those with group travel planning departments to lay off valued employees. Almost all say they have pivoted to virtual events, merchandise and gift cards, employee engagement technology and related services that require a different type of expertise.
Many of the group travel programs evolved into individual travel, merchandise, or gift card programs, because, as one CEO said, "Companies couldn't just tell their top performers, 'sorry, there's no award for your accomplishment this year'."
Virtual company meetings, they all agree, are creating significant opportunities for profitable business and differentiation. They generate much lower gross revenues, but higher net margins and demand creative and production expertise without all the travel. They say it's a big adjustment from the group travel model and demands a different type of talent but is a promising new business opportunity for those clients who don't depend upon getting people to pay to attend virtual events. Says one executive, "Very few people have proven that they can generate the type of revenue through virtual events as they have from live events. It remains to be seen if there is a business model for that."
Speaking specifically about the group business, most say they are booking group events starting in the second half of 2021, but with very lenient cancellation clauses. However much they wish for a return to group travel, no one is anything but cautious about the long-term because, they agree, it all depends upon the development of a vaccine or some other unknown force that could restore confidence in travel and events. One executive notes: "While there is a certain percentage of Americans who don't care about or believe the risks, the majority of people consider the disease a great risk and many are not flying, dining out, or even participating in some small group activities even though they can. How can anyone predict when that mentality will change?"
Companies as diverse as Crutchfield Business, Tourneau Corporate Sales, and Pulse Experiential Travel say they are experiencing a shift of dollars from group travel to individual travel and merchandise and from the increased gifting for employees and business.

Will Crutchfield
, Manager of Business Sales and Development at
Crutchfield Business
, says, "For the past few months, we have seen both business and consumer shopping habits shift towards e-commerce. Fortunately, our merchandising and distribution teams have done a wonderful job allowing us to meet our customers' expectations. Item availability along with same-day shipping, has helped us add a little bit of joy to thousands of customers' lives throughout this pandemic."
Because Crutchfield works with many customers, Crutchfield says it's difficult to pinpoint the underlying shift, but suggests it's due to increased redemptions in loyalty and incentive programs and because more programs are using merchandise as a result of reduced travel programs.

The watch category has held up in the corporate market, says
Andy Finn
, Senior Vice President of Corporate Sales for
Tourneau
, who observes: "Our corporate sales have done surprisingly well in light of the challenges in the retail marketplace. This appears to be the result of the cancellation or postponement of many travel programs and because people are sitting at home and using the points they've earned. Also, because of our broad selection of brands such as Tag Heuer, Breitling and all high- end luxury Swiss timepieces, we can do a good job of meeting demand from companies seeking a special brand-name reward with high-perceived value for their top achievers."
Marc Matthews
, CEO of
Pulse Experiential Travel
, a leader in individual experiential travel, says his company has seen increased sales of its individual travel offerings as a result of the disruption in group travel because of his company's commitment to offering a three-year travel guarantee or more on every package. "People are offering their President's Club winners individual travel programs that can be used when people feel comfortable traveling again or for programs that don't require air travel, if that is a concern. Our focus now is on broadening our individual offerings and providing programs with clear ROI to customers."
---
Education, Certifications, and Information to Activate
Brand Media and Enterprise Engagement

A complete learning, certification, and information program and a course syllabus for educators.
Resources:
The
Brand Media Coalition
, the only guide to the story-telling power of brands and where to source them for business, event, promotional gifting, and rewards and recognition.
Enterprise Engagement Solution Provider Directory
. The only directory of engagement solution providers covering all types of agencies and tactics as well as insights on how to select them.
Communities:
The
Enterprise Engagement Alliance and Advocate
and the
Brand Media Coalition
free resource centers offering access to the latest research, news, and case studies; discounts, promotions, referrals, and commissions, when appropriate to third-party solution providers from participating coalition solution provider members.
Training and Certification
Enterprise Engagement Alliance Education:
Certified Engagement Practitioner; Advanced Engaged Practitioner, and Certified Engagement Solution Provider learning and certification programs on how to implement Stakeholder Capitalism principles at the tactical level.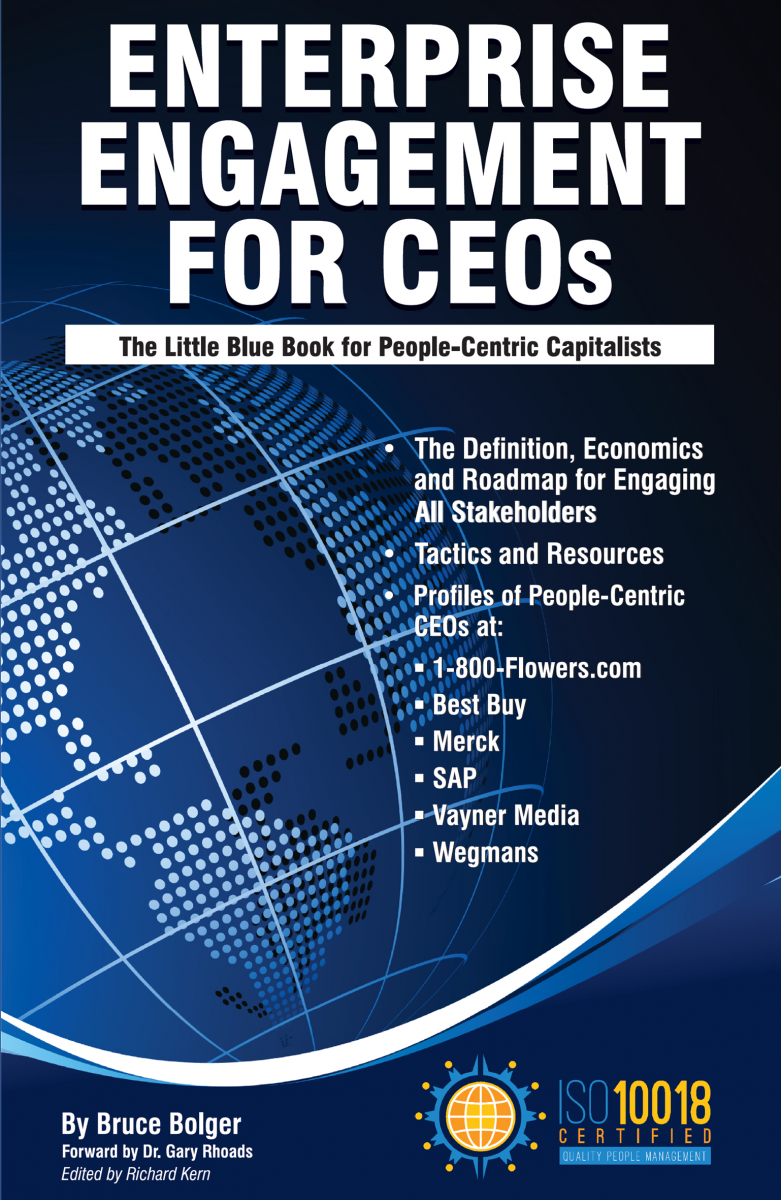 In Print:
This is the definitive implementation guide to Stakeholder Capitalism, written specifically to provide CEOs and their leadership teams a concise overview of the framework, economics, and implementation process of a CEO-led strategic and systematic approach to achieving success through people. (123 pages, $15.99)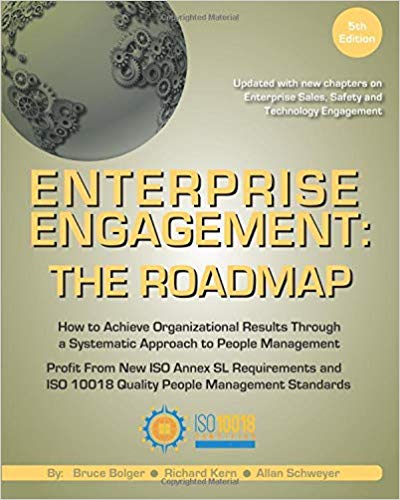 The first and most comprehensive book on Enterprise Engagement and the new ISO 9001 and ISO 10018 quality people management standards. Includes 36 chapters detailing how to better integrate and align engagement efforts across the enterprise. (312 pages, $36.)
Online:
10-minute short course: click here
for a 10-minute introduction to Enterprise Engagement and ISO standards from the Coggno.com learning platform.
Services:
• The Engagement Agency at EngagementAgency.net,
offering: complete support services for employers, solution providers, and technology firms seeking to profit from formal engagement practices for themselves or their clients, including Brand and Capability audits for solution providers to make sure their products and services are up to date.
• C-Suite Advisory Service
—Education of boards, investors, and C-suite executives on the economics, framework, and implementation processes of Enterprise Engagement.
• Speakers Bureau
—Select the right speaker on any aspect of engagement for your next event.
• Mergers and Acquisitions. The Engagement Agency's Mergers and Acquisition group is aware of multiple companies seeking to purchase firms in the engagement field. Contact Michael Mazer in confidence if your company is potentially for sale at 303-320-3777.
Enterprise Engagement Benchmark Tools:
The Enterprise Engagement Alliance offers three tools to help organizations profit from Engagement.
Click here
to access the tools.
• ROI of Engagement Calculator. Use this tool to determine the potential return-on-investment of an engagement strategy.
• EE Benchmark Indicator. Confidentially benchmark your organization's Enterprise Engagement practices against organizations and best practices.
• Compare Your Company's Level of Engagement. Quickly compare your organization's level of engagement to those of others based on the same criteria as the EEA's Engaged Company Stock Index.
• Gauge Your Personal Level of Engagement. This survey, donated by Horsepower, enables individuals to gauge their own personal levels of engagement.
For more information, contact Bruce Bolger at Bolger@TheEEA.org, 914-591-7600, ext. 230.