Maui Jim's Brett Hatch Reflects on the Event Gifting Industry it Helped Launch
Brett Hatch, Senior Director of Global Gifts for Maui Jim, was a major force in developing the event gifting category. RRN recently caught up with Hatch to get his insights on the channel his company helped create.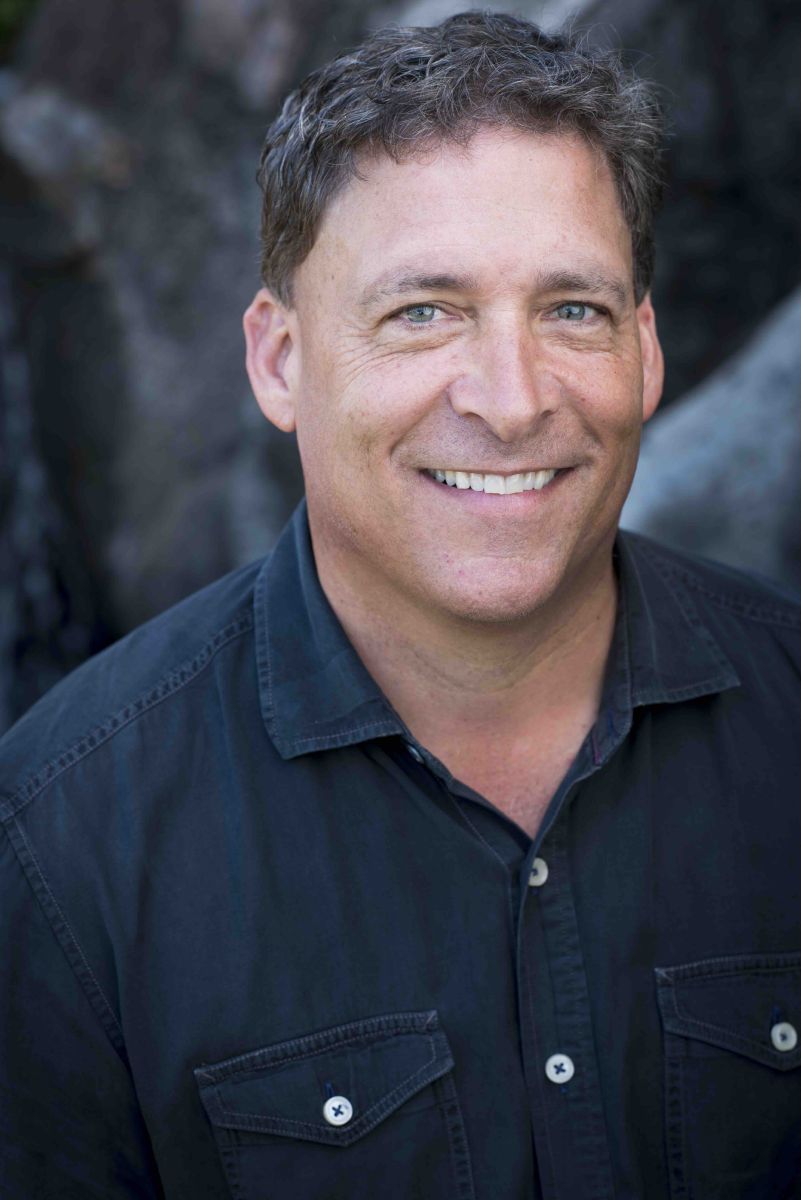 RRN:
There is ample evidence that Maui Jim created the event-gifting category. What are your thoughts related to having built a category with multiple competitors?
Hatch: It's been exciting to pave the way in the event gifting industry, but as the years go on and more competitors are popping up, it becomes more apparent that not all gift providers are created equal. There are gifting companies out there quoting that they offer "Maui Jim-level service." You won't get this level of service unless you work directly with Maui Jim. It's really that simple. Although we're flattered the industry recognizes that it's a valuable expectation, no other gifting reseller can match it. Only Maui Jim can provide a true brand employee on-site to create an experience for the guest. Resellers can't offer a warranty and customer service after the event for the gift; no reseller can provide the latest styles and inventory available. It's just not a level of service that a reseller can provide. So, it's tricky because some of these companies are giving "experiential gifting" a bad name.
RRN: Explain how these event-gifting programs work in terms of pre-event, at-event, or even post-event marketing and logistics.
Hatch: Since we are the manufacturer and source of the product, our process is simpler than others. There are not a lot of layers to go through. The client has a Maui Jim team that will help simplify the gifting process from start to finish. With Maui Jim, clients don't have to worry about any hidden costs, markups, or restocking charges. According to IRF's 2018 Outlook Study, there is an "increase of buyers working directly with the manufacturer as opposed to third-party suppliers...39% of corporate buyers are frequently working directly with suppliers." When clients work directly with Maui Jim, they get quick turnaround, newest styles, ample inventory and the best pricing. These are all factors that determine whether a client will have a successful experience from start to finish. Post-event is just as important as before and during the event. We have the highest perceived value in the industry because we don't discount our products. When the guest goes online to see how much the gift costs, they see that they received a gift that is valued between $189-$399. Another important aspect after the event is the warranty and customer service for repairs. All Maui Jim gift recipients get the exact same warranty and level of customer service that someone would get if they walked in and purchased that pair of sunglasses. Customer service is one of our most important attributes at Maui Jim sunglasses, which is one of the reasons we have a 93% loyalty rate with our customers.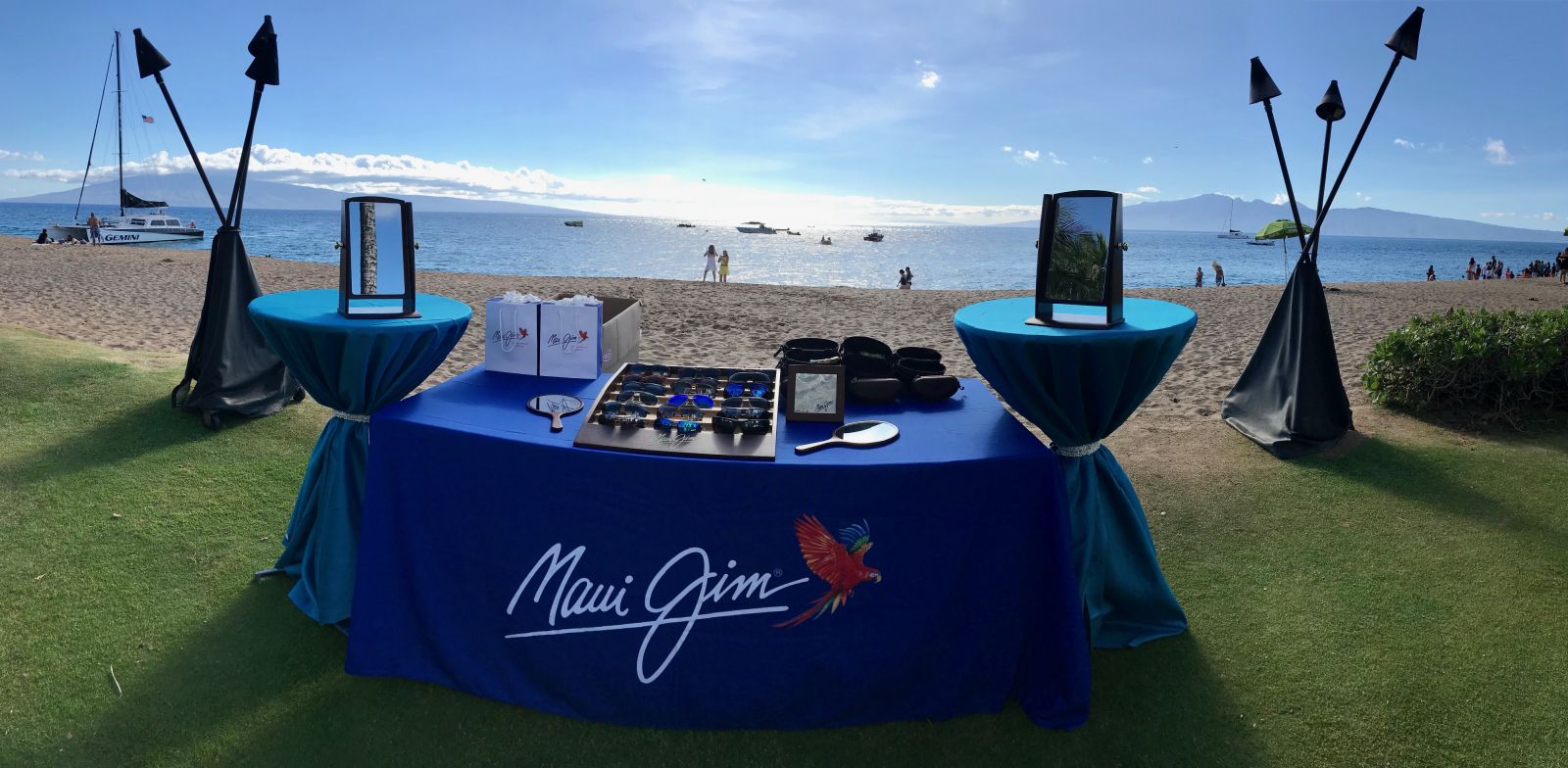 RRN: What have you learned is necessary for success at such events?
Hatch: Creating a true brand experience and anticipating the customer's needs are two very important pieces to a successful event. The gifting process and experience should be memorable. Our on-site staff is extensively trained on questions to ask and how to get the recipient engaged and create a positive experience. They engage with the guest to find out which of the 18 styles offered best fit their lifestyle, functionality requests, or fashion preference. Maui Jim gives them a choice within a category.
This leads to another important piece: instant gratification. We come in with twice as much inventory as needed to ensure that the guest gets to walk away with their first gift choice. With competitors that are offering multiple gift options, the ability to offer all sizes of multiple different styles of shoes isn't reasonable. You lose the excitement of that instant gratification gift because their size wasn't available, or guests feel they're "settling" for a different gift of choice by picking something else. Then, after they receive their gift, they look it up online and see that it's heavily discounted on different sites. With a Maui Jim experience, all these puzzle pieces have been refined over the past 20 years. We have our own staff on-site, we control our inventory and pricing and we send twice as much inventory as needed. This is manageable because we're the manufacturer, and it's worth it for the guests to get their first choice gift immediately.
RRN: How important is the brand name to the success of the event?
Hatch: A true brand experience is more important than anything, and when you pair that with the number one premium polarized sunglasses in the industry, it's a win-win. There was a study done by the Wharton School that states, "When recipients receive an experience, regardless of whether they share in that experience with the gift-giver, they feel more connected to the gift giver as a result of it compared to receiving a material gift." A fitting experience is just that, an experience. A true brand experience is something that shows that a company is investing in that guest, just as much as that guest invests in your company or organization. When you work with Maui Jim, you add that value and standard because our staff is trained to learn about the guest and their wants and needs to determine the most appropriate gift. You're leaving the guest with the memories of a tailored experience along with a quality gift that they'll use throughout the entire year.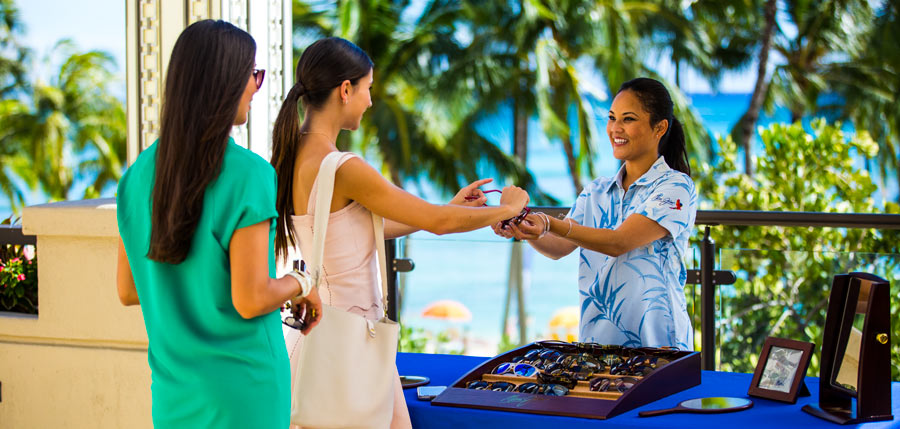 RRN:
What key elements should buyers/planners look out for when selecting an event-gifting company?
Hatch: We get asked this question all the time, so we've actually created a list of questions people should ask when looking for a memorable gifting experience.
•
Does the company you're working with provide a true brand experience?
•
Does the gift have a broad and lasting appeal? What sort of gift can be provided that will appeal to a wide range of demographics - age range, gender, or lifestyle?
•
What costs are covered by the gifting company and what costs are put back on the planner? Get a breakdown of every aspect of the experience prior to the event.
•
How is inventory handled?
•
What are the destination considerations and how do they work with taxes and duties? Do they have distribution centers throughout the world to help with cost savings and/or shipping logistics?
•
What are the minimums and maximums requirements?
RRN: What can go wrong at an event-gifting program and what is the impact of that?
Hatch: We've been doing this for almost 20 years, so we've seen a lot of things go wrong at events. It's a fine science to get down to things like how many styles offered is the right number, how much inventory should be sent to ensure every guest walks away with their first choice, what training to offer staff to be able to provide a true brand experience, or having those relationships for shipping logistics and duty issues that may come up. There are so many variables in a domestic or international fitting event that a lot of companies run out of inventory, can't provide a true brand experience because they're trying to represent so many different brands, or hidden costs that aren't accounted for up front. Not all companies can pull off a smooth experience with all the moving pieces. When a planner is burned by some of these issues, they may think that fitting events are too much work and too much can go wrong. As long as the planner is working with a veteran company that has seen it all, like Maui Jim, they'll see that a fitting experience done right leaves the guests and planners with great memories.
For More Information:
Beth Stewart
Marketing Specialist, Corporate Gifts
Maui Jim
800-614-6790
corporategifts@mauijim.com
---
Master the Principles of Enterprise Engagement to Achieve Organizational Goals and Enhance Your Career
Profit from a new systematic approach to engagement to enhance your organization's brand equity; increase sales, productivity, quality, innovation, and safety, and reduce risks.
Achieve ISO 10018 Quality People Management Certification to demonstrate your organization's strategic commitment to people to your customers, employees, distribution partners, vendors, communities, investors, and regulators.
Live Education:
Enterprise Engagement in Action Conference at Engagement World
, April 3, 2019, in San Francisco, in conjunction with the Selling Power Sales 3.0 Conference. Learn about the economics, framework, and implementation process for an ISO certifiable approach to achieving organizational objectives by strategically fostering the proactive involvement of all stakeholders.
Learn more and register now
.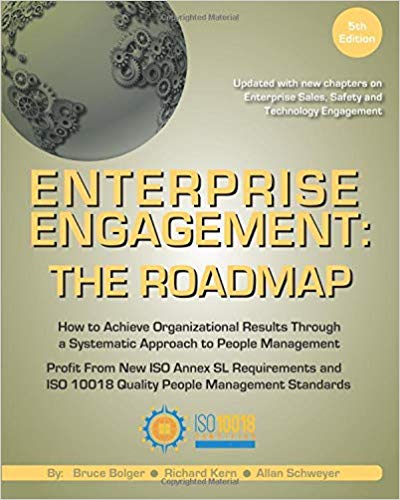 The first and most comprehensive book on Enterprise Engagement and the new ISO 9001 and ISO 10018 quality people management standards.
Online:

The Enterprise Engagement Academy at EEA.tmlu.org
, providing the only formal training on Enterprise Engagement and the new ISO 9001 and ISO 10018 quality people management standards. Provides preparation for professionals to support organizations seeking ISO 10018 employer or solution provider certification, as well as elective courses on Trade Show Engagement, Rewards and Recognition, Government, and other topics.
Plus
: 10-minute short course:
click here
for a 10-minute introduction to Enterprise Engagement and ISO standards on
Coggno.com
.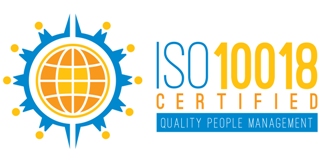 Services: The International Center for Enterprise Engagement at TheICEE.org
, offering: ISO 10018 certification for employers, solution providers, and Enterprise Engagement technology platforms; Human Resources and Human Capital audits for organizations seeking to benchmark their practices and related Advisory services for the hospitality field.
The Engagement Agency at EngagementAgency.net
, offering: complete support services for employers, solution providers, and technology firms seeking to profit from formal engagement practices for themselves or their clients, including Brand and Capability audits for solution providers to make sure their products and services are up to date.
C-Suite Advisory Service
—Education of boards, investors, and C-suite executives on the economics, framework, and implementation processes of Enterprise Engagement.
Speakers Bureau
—Select the right speaker on any aspect of engagement for your next event.
Mergers and Acquisitions.
The Engagement Agency's Mergers and Acquisition group is aware of multiple companies seeking to purchase firms in the engagement field. Contact Michael Mazer in confidence if your company is potentially for sale at 303-320-3777.
Enterprise Engagement Benchmark Tools:
The Enterprise Engagement Alliance offers three tools to help organizations profit from Engagement.
Click here
to access the tools.
• ROI of Engagement Calculator. Use this tool to determine the potential return-on-investment of an engagement strategy.
• EE Benchmark Indicator. Confidentially benchmark your organization's Enterprise Engagement practices against organizations and best practices.
• Compare Your Company's Level of Engagement. Quickly compare your organization's level of engagement to those of others based on the same criteria as the EEA's Engaged Company Stock Index.
• Gauge Your Personal Level of Engagement. This survey, donated by Horsepower, enables individuals to gauge their own personal levels of engagement.
For more information, contact Bruce Bolger at Bolger@TheEEA.org, 914-591-7600, ext. 230.