EEA and BMC Join Forces to Tap the $40 Billion SMB Gifting and Engagement Market
The corporate gifting, recognition, incentive and engagement, and promotion marketplace is booming. The Enterprise Engagement Alliance at TheEEA.org and the Brand Media Coalition at BrandMediaCoalition.com have joined forces to help educate, develop, and equip solution providers in all areas of marketing, sales, and HR management with the information, marketing support, and technology options they need to help small- to medium-size businesses (SMBs) digitalize ROI-based gifting, rewards and recognition, employee, customer, and enterprise engagement.
The Enterprise Engagement Alliance outreach and education program for solution providers and organizational practitioners and the Brand Media Coalition of brands, gift cards, and fulfillment, and gifting solution providers have joined forces to help develop the SMB marketplace. The US market is estimated to have over 200,000 companies with sales of $10 million to $100 million.


Together, the EEA and BMC will:
•

Educate solution providers and their clients in the SMB market
(small and medium-size businesses) on the benefits of buying through expert recognition, incentive, promotion, marketing, and technology solutions providers through Enterprise Engagement Alliance outreach efforts through other media and organizations about human capital management and ROI of engagement.
•

Help incentive, recognition, and other solution providers
develop new services for clients with web sites, training, sales and marketing support, and ROI-based program design, along with a suite of readily available gifting and engagement technologies and solutions with a transparent business model.
•

Enable brands, gift cards, travel, and fulfillment companies
to create surprise and delight gifting and engagement technology platforms with catalogs featuring their own products.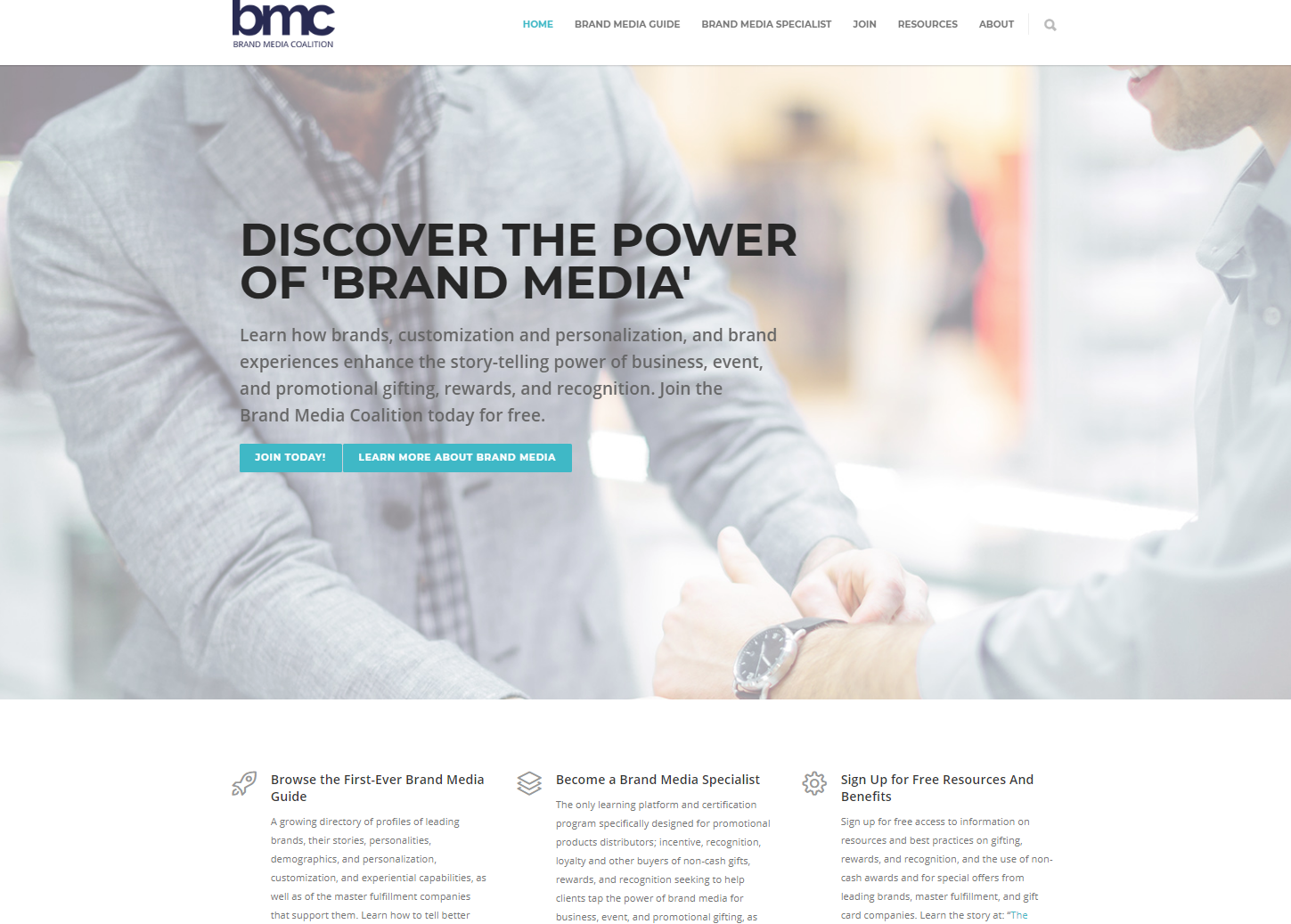 The effort will use of the EEA's a complete package of education, media companies ESM at
EnterpriseEngagement.org
and RRN at
RewardsRecognitionNetwork.com
,
Engagement Agency
business development services along with a choice of fully digital, ROI-based gifting and engagement solutions for the SMB marketplace from participants in the
EEXAdvisors.com
and
BrandMediaCoalition.com
marketplace.
The Enterprise Engagement Alliance was founded in 2008 to develop a formal field based on helping organizations of all sizes achieve their goals by fostering the proactive involvement of all their stakeholders. The Brand Media Coalition was founded in late 2018 to help educate the corporate marketplace on the effective use of brands in business gifting, rewards and recognition, promotions, and corporate amenities and the benefits of purchasing through experts rather than through consumer retail outlets.
A Long Overlooked Market That Can Be Tapped With Technology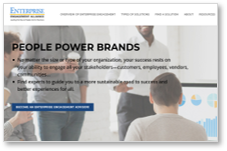 Explains Bruce Bolger, founder of the EEA, "As a result of the work-at-home phenomenon and the rapid increase in demand for digital gifting and employee engagement solutions, there is a large untapped market of businesses seeking seamless solutions to support their business objectives in the same way as large companies. The SMB market generally is not served by the 70 or fewer incentive, recognition, loyalty, and technology companies active in the US, which focus mostly on large enterprises. Today, with the availability of multiple highly configurable business gifting and engagement technology solutions and methods for measuring ROI, there's an enormous opportunity for marketing and human capital advisory forms to help clients of all sizes develop and implement ROI-based engagement technology solutions to help engage the over 150 million people employed in the US before the pandemic, not to mention the tens of millions of businesses and consumers participating in loyalty programs."
He continues, "This effort is designed to bring the benefits of engagement and technology enjoyed by large companies to the majority of companies currently overlooked in the market. According to past Incentive Federation studies, the corporate market for rewards and recognition is about $50 billion, and yet the 70 or so incentive, recognition, and loyalty companies, or the several dozen master fulfillment companies through whom they buy, account for no more than $10 billion, if that. While the largest incentive and recognition companies fight over no more than a few thousand accounts at most, there are over 200,000 companies in the US with sales of over $10 million, large enough to benefit from outside engagement expertise and technology."
A Combination of Education, Marketing, and Technology to Support Solution Providers
In conjunction with its parent company, The Enterprise Engagement Alliance, The Brand Media Coalition has developed a complete education, marketing, and business development solution to help the IRR industry tap the long-overlooked SMB marketplace currently buying through consumer retail outlets. The program combines recruiting and educating a new salesforce of marketing and HR solution providers aimed at the SMB market equipped with a full suite of business gifting, recognition and incentive, and company store technologies to digitalize and track all sales available from multiple companies. "Technology now makes it possible for solution providers to profitably support the SMB market, because it involves recurring revenues generated through highly automated platforms."
A New Growth Engine for Brands, Gift Cards, Travel, and Fulfillment Companies
Leveraging the education, training, support, and publishing services of the Enterprise Engagement Alliance, and already available gifting and engagement technology in the marketplace, the Brand Media Coalition is offering a variety of state-of-the art solution to help brands, gift cards, master fulfillment companies and their solution providers capture the $40 million US marketplace for gifting, incentive, recognition, loyalty, and promotions and to sell directly to tens of millions of employees in company stores through password-protected communities. Much of this business currently moves through consumer retail consumer outlets lacking the expertise and technology needed to optimize the reward and gifting experience, says Bolger.
For More Information
Bruce Bolger
914-591-7600, ext. 230
---
Education, Certifications, and Information to Activate
Brand Media and Enterprise Engagement

A complete learning, certification, and information program and a course syllabus for educators.
Resources:
The
Brand Media Coalition
, the only guide to the story-telling power of brands and where to source them for business, event, promotional gifting, and rewards and recognition.
Enterprise Engagement Solution Provider Directory
. The only directory of engagement solution providers covering all types of agencies and tactics as well as insights on how to select them.
Communities:
The
Enterprise Engagement Alliance and Advocate
and the
Brand Media Coalition
free resource centers offering access to the latest research, news, and case studies; discounts, promotions, referrals, and commissions, when appropriate to third-party solution providers from participating coalition solution provider members.
Training and Certification
Enterprise Engagement Alliance Education:
Certified Engagement Practitioner; Advanced Engaged Practitioner, and Certified Engagement Solution Provider learning and certification programs on how to implement Stakeholder Capitalism principles at the tactical level.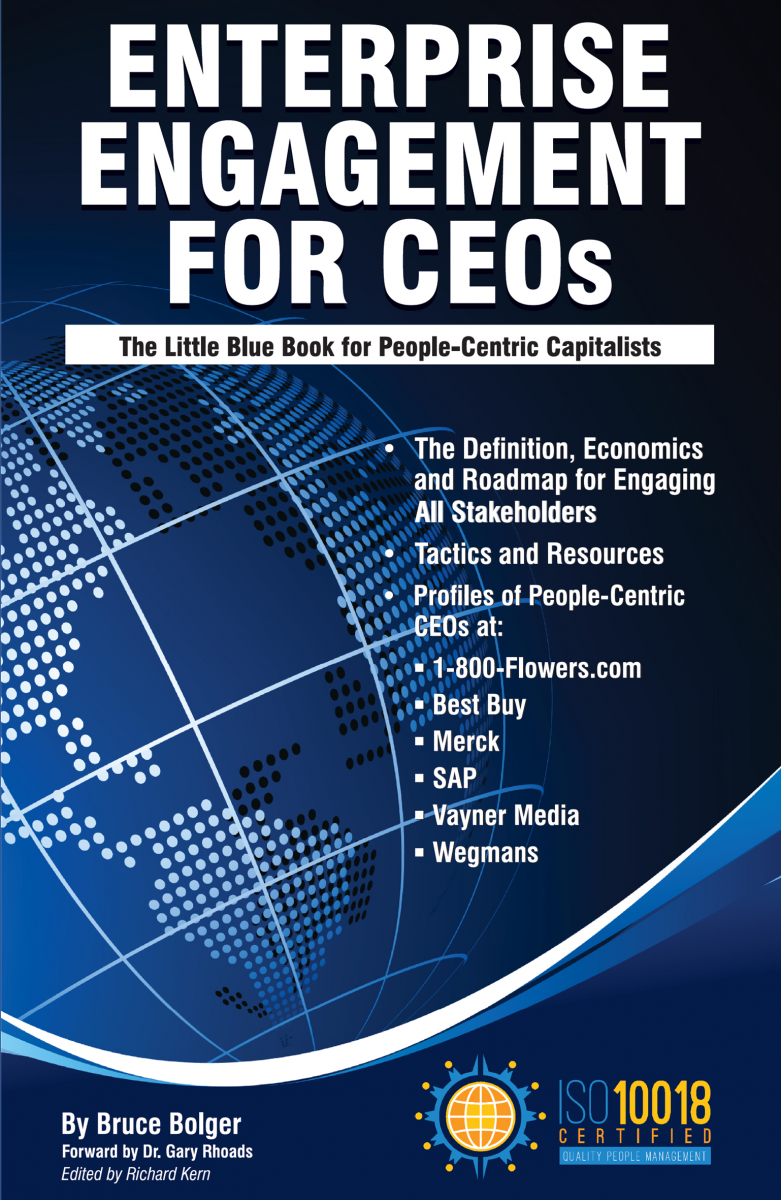 In Print:
This is the definitive implementation guide to Stakeholder Capitalism, written specifically to provide CEOs and their leadership teams a concise overview of the framework, economics, and implementation process of a CEO-led strategic and systematic approach to achieving success through people. (123 pages, $15.99)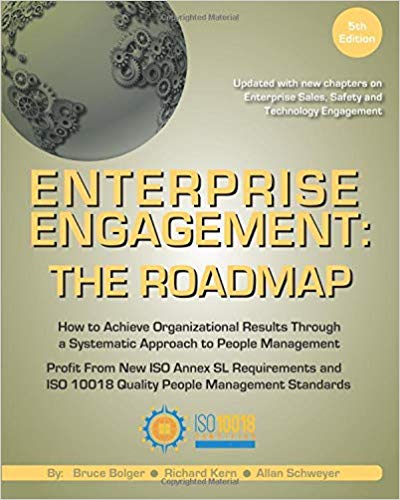 The first and most comprehensive book on Enterprise Engagement and the new ISO 9001 and ISO 10018 quality people management standards. Includes 36 chapters detailing how to better integrate and align engagement efforts across the enterprise. (312 pages, $36.)
Online:
10-minute short course: click here
for a 10-minute introduction to Enterprise Engagement and ISO standards from the Coggno.com learning platform.
Services:
• The Engagement Agency at EngagementAgency.net,
offering: complete support services for employers, solution providers, and technology firms seeking to profit from formal engagement practices for themselves or their clients, including Brand and Capability audits for solution providers to make sure their products and services are up to date.
• C-Suite Advisory Service
—Education of boards, investors, and C-suite executives on the economics, framework, and implementation processes of Enterprise Engagement.
• Speakers Bureau
—Select the right speaker on any aspect of engagement for your next event.
• Mergers and Acquisitions. The Engagement Agency's Mergers and Acquisition group is aware of multiple companies seeking to purchase firms in the engagement field. Contact Michael Mazer in confidence if your company is potentially for sale at 303-320-3777.
Enterprise Engagement Benchmark Tools:
The Enterprise Engagement Alliance offers three tools to help organizations profit from Engagement.
Click here
to access the tools.
• ROI of Engagement Calculator. Use this tool to determine the potential return-on-investment of an engagement strategy.
• EE Benchmark Indicator. Confidentially benchmark your organization's Enterprise Engagement practices against organizations and best practices.
• Compare Your Company's Level of Engagement. Quickly compare your organization's level of engagement to those of others based on the same criteria as the EEA's Engaged Company Stock Index.
• Gauge Your Personal Level of Engagement. This survey, donated by Horsepower, enables individuals to gauge their own personal levels of engagement.
For more information, contact Bruce Bolger at Bolger@TheEEA.org, 914-591-7600, ext. 230.