CarltonOne Evergrow Targets SMB Market with an ESG Focus
CarltonOne Engagement, creator of the Power2Motivate enterprise engagement technology platform, has launched an "affordable small - and medium-sized business solution" that addresses the "S" and "E" of Environment, Social, and Governance management. The company says Evergrow offers a "multi-experience app that empowers change through personalized and engaging recognition, rewards, and incentives," and plants trees based on performance points distributed.
CarltonOne Engagement
, a leading provider talent recognition and performance program technologies, has launched
Evergrow,
" an AI-driven engagement solution that makes work mean more by boosting recognition, performance, wellness, and teamwork. Evergrow's unique business model also directly funds the planting of millions of trees around the world, positively impacting communities and their local economies," according to a company announcement.
Launched on Earth Day, CarltonOne announced the immediate funding of an additional 250,000 trees with Eden Reforestation Projects, its partner in the tree-planting initiative.

"We're excited to launch this next-generation engagement solution at
Evergrow.app
," says Rob Purdy, Founder and CEO of CarltonOne. "But our mission goes beyond just helping companies thrive. Companies are seeking new ways to make work mean more with purpose-driven social responsibility programs, and Evergrow turns every employee transaction into climate action by funding new native trees around the world. The more that members use Evergrow, the more trees are funded, the more CO2 is removed from the atmosphere. It's a climate change movement powered by employee performance." He says the company is funding the planting of a new tree every six seconds — and has already planted over 6 million trees in Kenya, Mozambique, Madagascar and Nepal. The goal is to fund 100 million trees a year by the end of 2022. People can follow the progress on a tree tracker at Evergrow.app."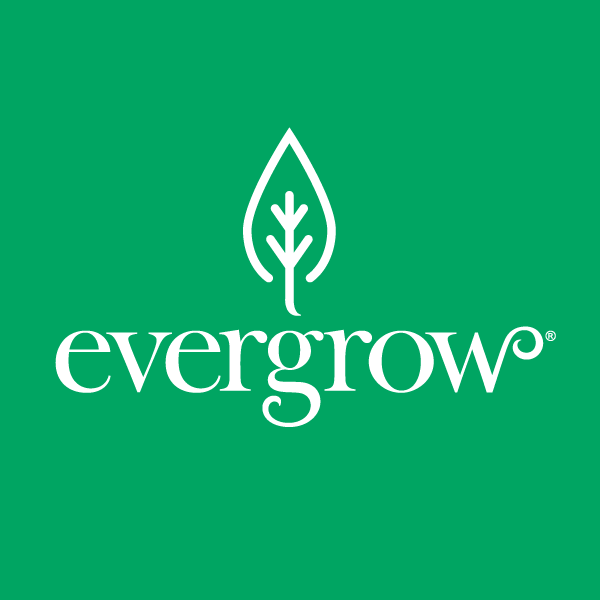 The company says Evergrow is designed to make work more rewarding and meaningful through:
An intuitive performance recognition engine — Managers, employees, and team members can instantly and easily give awards with one-click recognition. Members earn badges for completing activities and reaching milestones.
AI-personalized rewards — The Evergrow reward marketplace uses the company's Reward AI technology to personalize the collection of over 10 million fashion, beauty, gadgets, smart home? and appliance items, plus gift cards, hotel and flight deals, events and more.
Kart™ shop & save employee benefit — In addition to redeeming points, members can shop and save on over 100,000 items, including discounts of up to 65% off fashion, 50% off watches, and 25% off electronics, the company says. Kart™ also offers instant coupons for deals at local restaurants, coffee shops and retail stores, with savings extended to family members.
Activity & wellness — Employees can connect a fitness tracker (such as Fitbit or Apple Watch) and members can earn points and badges and join team or company wellness challenges.
Surveys, training & feedback — Businesses can track engagement and encourage feedback by creating surveys and rewarding training, certification, or meeting participation.
Explains Purdy, "Employees want to work for brands that are part of a bigger movement — like Evergrow's tree-planting initiative. Evergrow will allow members to help fight climate change while also being part of positive change within their company, and together we are creating a global eco-action solution that delivers measurable impact."
The Evergrow tree-planting initiative is a partnership with Eden Restoration Projects, a not-for-profit that supports local communities to plant and protect new native forests in locations around the world. It reportedly uses 'Employ to Plant' methodology to benefit the members in the local communities where trees are planted. The goal is also to provide steady employment for impoverished people while addressing climate change as well.
For More Information
Mike Love
Vice President, Sales
905.477.3971 x 257
289.200.3536
mlove@power2motivate.com
---
Master the Principles of Enterprise Engagement to Achieve Organizational Goals and Enhance Your Career
Profit from a new strategic and systematic approach to engagement to profit from the principles of Stakeholder Capitalism, enhance your organization's brand equity; increase sales, productivity, quality, innovation, and safety, and reduce risks.
Get trained to become a Chief Engagement Officer for your organization.
Learn how to create Sustainability or Integrated Reports for Your Organization or Clients.
Learning and Certification:
The Enterprise Engagement Alliance 2.0 education program, the only learning and certification platform for boards, executives, and managers seeking to understand the implementation principles of Stakeholder Capitalism, human capital management and measurement, and ROI of engagement. For more information, contact Bruce Bolger at Bolger@TheICEE.org or 914-591-7600, ext. 230.
Resources:
ESM at EnterpriseEngagement.org, an online trade publication founded in 2008 that features news, profiles, research, and more on the field of Enterprise Engagement, the implementation process for Stakeholder Engagement, and the EEXAdvisors.com buyer's guide and resource directory. This includes a comprehensive resource library on Stakeholder Capitalism, human capital management, measurement, and ROI of engagement.

RRN at RewardsRecognitionNetwork.com, an online trade publication founded in 1996 that features news, profiles, research and more on rewards, recognition, gifting and brand media, and the Brand Media Coalition, the only guide to the story-telling power of brands and where to source them for business, event, promotional gifting, and rewards and recognition. This features a comprehensive resource library on brand media, rewards, recognition, incentives, gifting and more.
The Enterprise Engagement Alliance Human Capital Management and ROI of Engagement Youtube channel featuring one-hour and 30-minute panel discussions with experts on multiple topics on Stakeholder Capitalism, Human Capital Management reporting and measurement, and engagement tactics.
Enterprise Engagement: The Roadmap 5th Edition
The first and most comprehensive book on Enterprise Engagement and the new ISO 9001 and ISO 10018 quality people management standards. Includes 36 chapters detailing how to better integrate and align engagement efforts across the enterprise. (312 pages, $36.)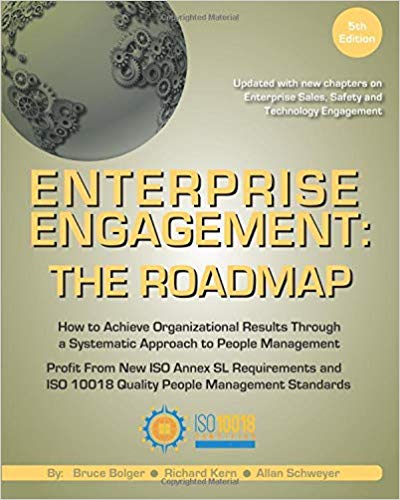 Services:
• The International Center for Enterprise Engagement at TheICEE.org, offering: ISO 10018 certification for employers, solution providers, and Enterprise Engagement technology platforms; Human Resources and Human Capital audits for organizations seeking to benchmark their practices and related Advisory services for the hospitality field.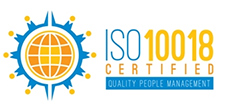 • The Engagement Agency at EngagementAgency.net, offering: complete support services for employers, solution providers, and technology firms seeking to profit from formal human capital management, reporting, and ROI of engagement practices for themselves or their clients, including Brand Alignment audits for brands and Capability audits for solution providers to make sure their products and services are up to date.
• C-Suite Advisory Services—Education of boards, investors, and C-suite executives on the economics, framework, and implementation processes of Enterprise Engagement.
• Speakers Bureau—Select the right speaker on any aspect of engagement for your next event.
• Mergers and Acquisitions. The Engagement Agency's Mergers and Acquisition group focuses on helping organizations focused on people sell to the right buyer and on assisting engagement solution providers seeking an exit or merger. Contact Michael Mazer in confidence if your company is potentially for sale at 303-320-3777.
Enterprise Engagement Benchmark Tools: The Enterprise Engagement Alliance offers three tools to help organizations profit from Engagement. Click here to access the tools.
• ROI of Engagement Calculator. Use this tool to determine the potential return-on-investment of an engagement strategy.
• EE Benchmark Indicator. Confidentially benchmark your organization's Enterprise Engagement practices against organizations and best practices.
• Compare Your Company's Level of Engagement. Quickly compare your organization's level of engagement to those of others based on the same criteria as the EEA's Engaged Company Stock Index.
• Gauge Your Personal Level of Engagement. This survey, donated by Horsepower, enables individuals to gauge their own personal levels of engagement.
For more information, contact Bruce Bolger at Bolger@TheICEE.org, 914-591-7600, ext. 230.